Covering Silvergate's Woes
If you've been following the news in the crypto space lately, then it may come as a surprise to you that Silvergate is in some deep shit.
'What are You Talking About? There's Been Plenty of Coverage in the Crypto Space about Silvergate Bank'
Yes...technically.
But that coverage has not dug into some of the more serious issues Silvergate faces at the time of writing.
FTX + Alameda's Relationship and Banking Activities at SIlvergate are Relevant, but Ancillary
At this point, it's well-known that Sam Bankman-Fried used Silvergate as his bank of choice for Alameda and (we'll assume) FTX as well, although details on the latter's true banking situation will likely remain opaque until the conclusion of SBF's federal trial and other related court proceedings.
Since the core issue at the heart of the FTX + Alameda collapse deals with the alleged inappropriate use of funds by Sam Bankman-Fried and other co-conspirators named and unnamed in their capacity as executives and leaders at FTX and Alameda, respectively, it was fair to assume that Silvergate would eventually come under some scrutiny since they were the primary financial institution used by both entities.
However, this is not the biggest issue that Silvergate is facing at the time of writing.
Concerns RE: Money Laundering at Silvergate Bank by Crypto Companies Not Named FTX or Alameda
Curiously, despite widespread coverage by various publications of the class action lawsuit initiated by investors against Silvergate in mid-December 2022, few (if any), took the time to delve into why the class action lawsuit was being initiated.
Fortunately, finding this out requires that we do no more than defer to the press release published on 'prnewswire' by the law firm spearheading the class action.
https://www.prnewswire.com/news-releases/pomerantz-law-firm-announces-the-filing-of-a-class-action-against-silvergate-capital-corporation-and-certain-officers--si-301702308.html (best to get certain things 'straight from the horse's mouth', as they say)
Critically, that press release noted the following:
The above excerpt from the press release informs us:
That the complaint, in specific, that the "defendants made materially false and/or misleading statements, as well as failed to disclose material adverse facts about the Company's business, operations, and prospects".

The press release goes further to identify exactly what these investors feel Silvergate has 'misled' them about and/or failed to disclose that they gauged to be materially significant. Specifically, the issue is taken with the fact that Silvergate failed to disclose that they did not possess "sufficient controls and procedures to detect instances of money laundering." (which is one hell of a claim to make against a legitimate U.S. financial institution).

The investors also claim that they were left in the dark about a money laundering operation taking place on the platform to the tune of over $425 million (again, this is a bombshell).

Investors were misled about the potential likelihood of Silvergate facing punitive measures moving forward. In essence, the PR reasons that given what they understand to be true about Silvergate's current and past state of affairs, the likelihood that the financial institution will "receive regulatory scrutiny and face damages, including penalties and reputational harm" is far greater than what Silvergate had projected either explicitly in communications to investors or implicitly through their failure to divulge certain facts that would have allowed the aggrieved investors to better ascertain the financial institution's future outlook.
After all of those bombshells, the press release then goes on to provide more detail about the >$400M+ money laundering figure they alluded to before, stating, "On November 15, 2022, Marcus Aurelius Research tweeted that, 'Recently subpoenaed Silvergate bank records reveal $425 million in transfers from $SI crypto bank accounts to South American money launderers. Affidavit from investigation into crypto crime ring linked to smugglers/drug traffickers.'"
All of This Information Was Confirmed
Unfortunately, no second or third-hand news sources could be consulted in this endeavor to establish a 'ground truth' regarding the salacious claims made in that press release.
Fortunately, this fact did not prevent us from tracking down the firsthand sources alluded to in this press release - which ultimately allowed us to confirm that the claims made in this press release were entirely founded. In fact, there are some additional circumstantial facts that strongly suggest that some large stakeholders in Silvergate may have been aware of these facts months prior.
The relevant sources, links to the subpoena/affidavit in question, etc., are all contained within a thread that the author of this piece published on Twitter.
https://twitter.com/librehash/status/1603885565858189312?s=20&t=VDR2iBS_cG4ArvOt_CRM7Q
The last tweet in the Twitter thread linked above reveals that the class action we've been discussing thus far was actually just one of two class actions initiated by investors that were pending against Silvergate at the time.
When it Rains it Pours
At the time of writing, there are four different class action suits pending against Silvergate in federal court:
The screenshot above only accounts for the class actions that have been filed in federal court. Beyond those, there have been a number of announcements made by other law firms representing different groups of Silvergate investors that have publicly stated their intent to file a complaint against the financial institution at some point in the immediate future.
https://www.prnewswire.com/news-releases/si-lawsuit-alert-levi--korsinsky-notifies-silvergate-capital-corporation-investors-of-a-class-action-lawsuit-and-upcoming-deadline-301714039.html
https://wreg.com/business/press-releases/cision/20221228NY74403/shareholder-alert-the-gross-law-firm-notifies-shareholders-of-silvergate-capital-corporation-of-a-class-action-lawsuit-and-a-lead-plaintiff-deadline-of-february-6-2023-nyse-si/
https://www.prnewswire.com/news-releases/silvergate-capital-corporation-nyse-si-shareholder-class-action-alert-bernstein-liebhard-llp-reminds-investors-of-the-deadline-to-file-a-lead-plaintiff-motion-in-a-securities-class-action-lawsuit-against-silvergate-capital-cor-301713945.html
Each one of these actions specifically identifies the >$425+ million money laundering figure cited in the subpoena published by 'Marcus Aurelius' on Twitter (you can find a link to the original post as well as the court document in the Twitter thread published above).
More Carnage for Silvergate Bank
As if all the above issues weren't enough, market data shows that Silvergate is trading 40% lower today, alone (January 5th, 2023).
At the time of writing, shares in Silvergate Capital Corp. have fallen by >90% in less than a year (dating back to early March 2022).
Obviously, things have been shitty for Silvergate bank lately. But it is worth looking into what's prompted this recent landslide in share price for the bank.
Deposits at Silvergate Fell by $8.1B+
If you've seen recent headlines from publications covering Silvergate Bank's evolving dumpster fire (we're calling it that because that's what its turning to at this point in time), then you've likely learned that mandatory financial disclosures by the financial institution revealed that clients had pulled >$8B+ from the bank over the past 3 months alone.
Is This a Lot? What's the Big Deal?
Without knowing how much Silvergate had deposited at their institution before this $8B+ reduction, we have no way to assess the gravity of this revelation.
Fortunately, Senator Elizabeth Warren painted a concise portrait of Silvergate's state of affairs up to September 30th, 2022, in a public letter she published that was addressed to the financial institution demanding answers to a litany of questions concerning the financial institution's operations, oversight and risk management controls along with a detailed actionable plan for sustainability in the future following the collapse of FTX & Alameda (among other large depositors at the financial institution, such as BlockFi).
https://www.warren.senate.gov/imo/media/doc/2022.12.05%20Letter%20to%20Silvergate%20Bank%20re%20FTX.pdf
Specifically, Senator Warren noted that, "Last month, you issued a statement asserting that, 'as of September 30, 2022, Silvergate's total deposits from all digital asset customer $11.9 billion'".
That quote is accompanied with a footnote reference, which brings us to a press release on Silvergate's site.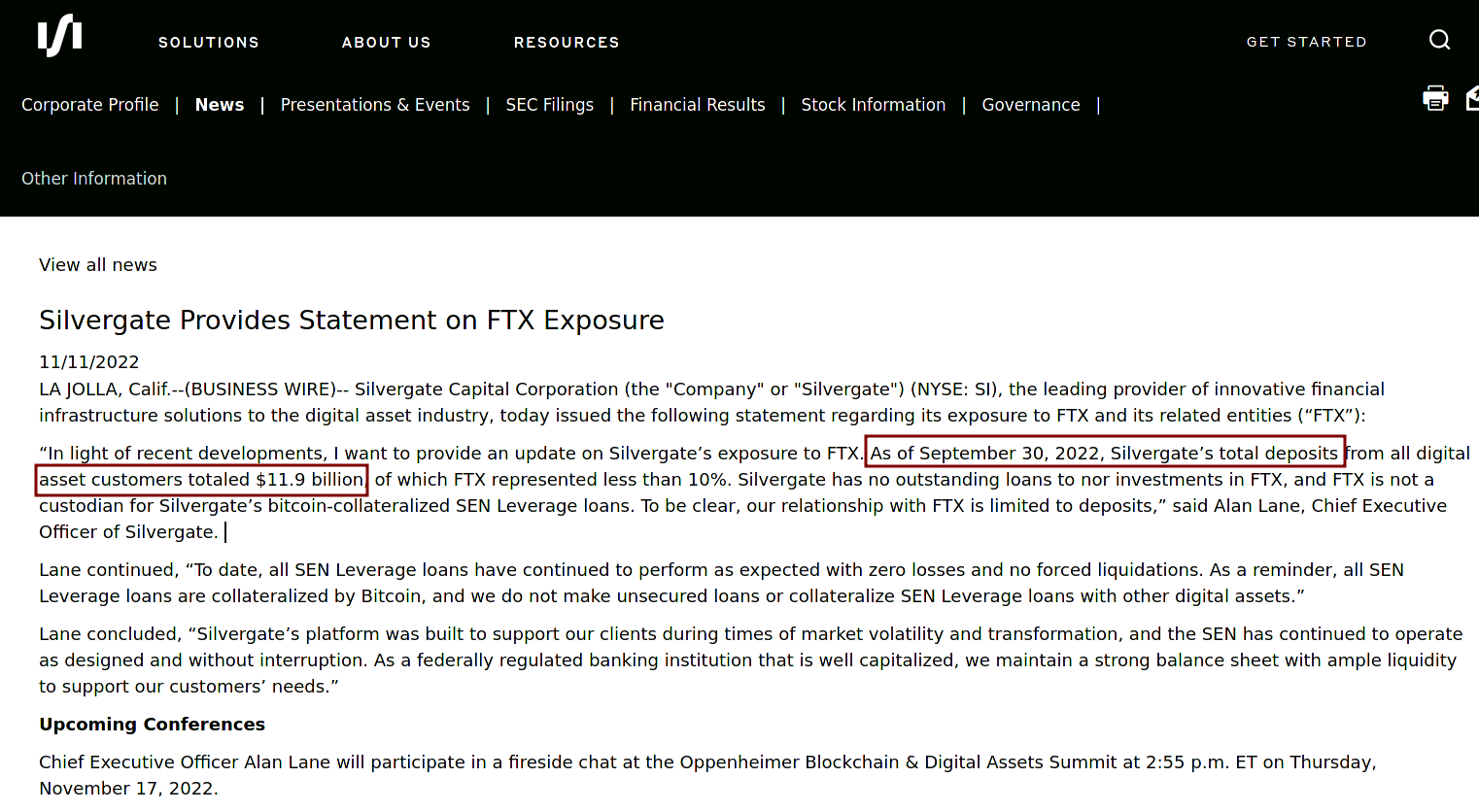 https://ir.silvergate.com/news/news-details/2022/Silvergate-Provides-Statement-on-FTX-Exposure/default.aspx
Doing the Math
We know there were $11.9 billion in deposits at the bank on September 30th, 2022. Recent financial data published by the financial institution confirmed this total declined by approximately $8.1 billion.
Quick math here (11.9-8.1), tells us that Silvergate's total deposits stand somewhere in the ballpark of $3.8 billion total. The dollar figure given for the decline in value of deposits at the institution represents a net change, so this deficit also accounts for any and all deposits (not withdrawals; positive cash flow) that were made to the bank.
Thus, it's reasonable to assume that the bank's total deposits (as far as we know) currently stand at circa $3.8 billion (although likely even lower given the recent collapse in the share price of the financial institution).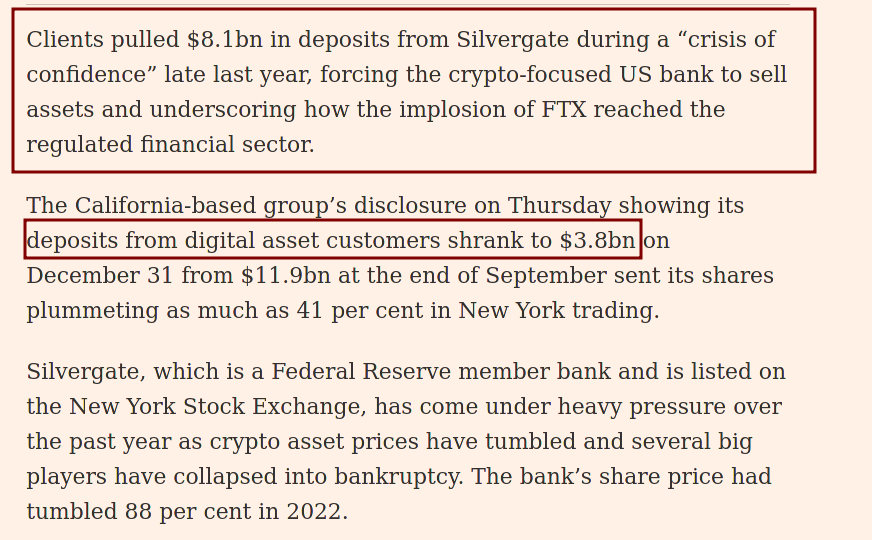 https://www.ft.com/content/69cd8629-278d-4cd5-a3e7-96d2f6c85f34
Another piece by 'Financial Times' (FT) revealed that to meet withdrawal requests over the past few weeks, Silvergate was forced to liquidate down >$5B+ of their debt securities, resulting in an actualized of over $700M+ from these sales. At this point, Silvergate no longer holds any equity capital.
At the end of September 2022, the financial institution's 'book value' stood at $1.3B.
Other Notable Facts
Silvergate has laid off ~40% of its staff

Beyond the $3.8B+ in deposits the bank holds, Silvergate was also purportedly carrying $4.6B+ in cash and equivalents at the end of December 2022.